Sales Executive
Liverpool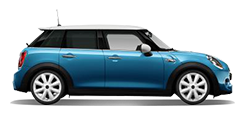 Job title Sales Executive Location Liverpool
Reference 11116557
Salary: Highly Competitive

Full-time

You know how to make customers feel special. Now come and share the joy of the MINI brand.

BMW Group Retail

Working in BMW Group Retail feels different to other retail sales careers – in or outside the automotive world. There's the passion our team have for the Group's world-famous brands. The collective pride in the quality of our design, technology and engineering. The satisfaction that comes from making every customer interaction memorable. And a sense of excitement about the future and what it holds. This is where to follow a career with the most forward-looking brands in automotive.

Welcome to the future of automotive retail

We're dedicated to bringing tomorrow's driving experience to our customers today. And we want to create retail experiences that are years ahead of the competition's. Our cutting-edge showrooms feature eye-catching design and the latest technology tools, like our ground-breaking AR apps. With all these advantages, and a brand like MINI, you'll be equipped to impress and inspire customers every time. We'll ensure you get the support and opportunities to make the most of your own future with us.

Your role

New or used, the MINI is an iconic car that brings joy. While the car always takes centre stage, you'll be there to bring its personality and features to life in the showroom, and when you're generating interest via promotions and marketing days.

You'll make sure that each customer feels they're a one-off by understanding exactly where and how a MINI will fit into their life. From financing to contracts and follow-up service, you'll aim for total customer satisfaction right through the process and provide them with both the experience they want, and the vehicle they need.

Your profile

You'll already have strong sales experience in the automotive industry with another main retailer – you'll get all the brand training and support you need to get your career going places.

We also expect you to have a good general level of education. A driving licence is essential, plus the tenacity and commitment to realise your full potential.

Rewards

Whilst working for one of the most highly respected family businesses in the North West you will also receive a competitive salary with an achievable bonus scheme and an attractive range of benefits including pension scheme, car scheme and 22 days holiday plus bank holidays.
CAREER QUESTIONS?

---
*Service only available during office hours